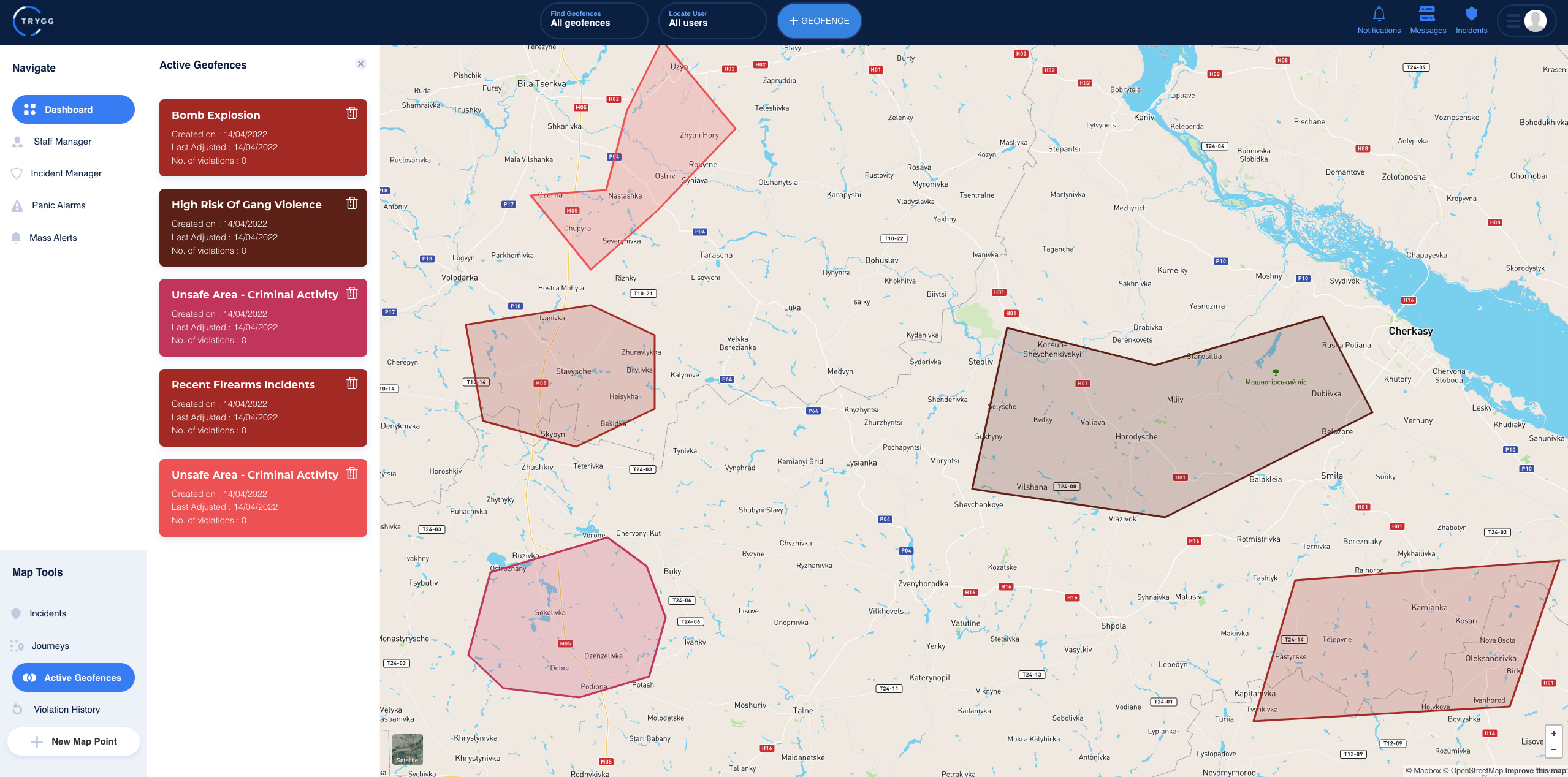 Geospatially accurate information
Trygg's geofences are created by the oversight dashboard using a custom polygon system to identify key areas relevant to your organisation. Rather than instructing staff on operationally relevant areas, or even 'out of bounds' areas, geofences are clear visual markers displayed on a map showing users easily digestible information about particular spots.
Request a demo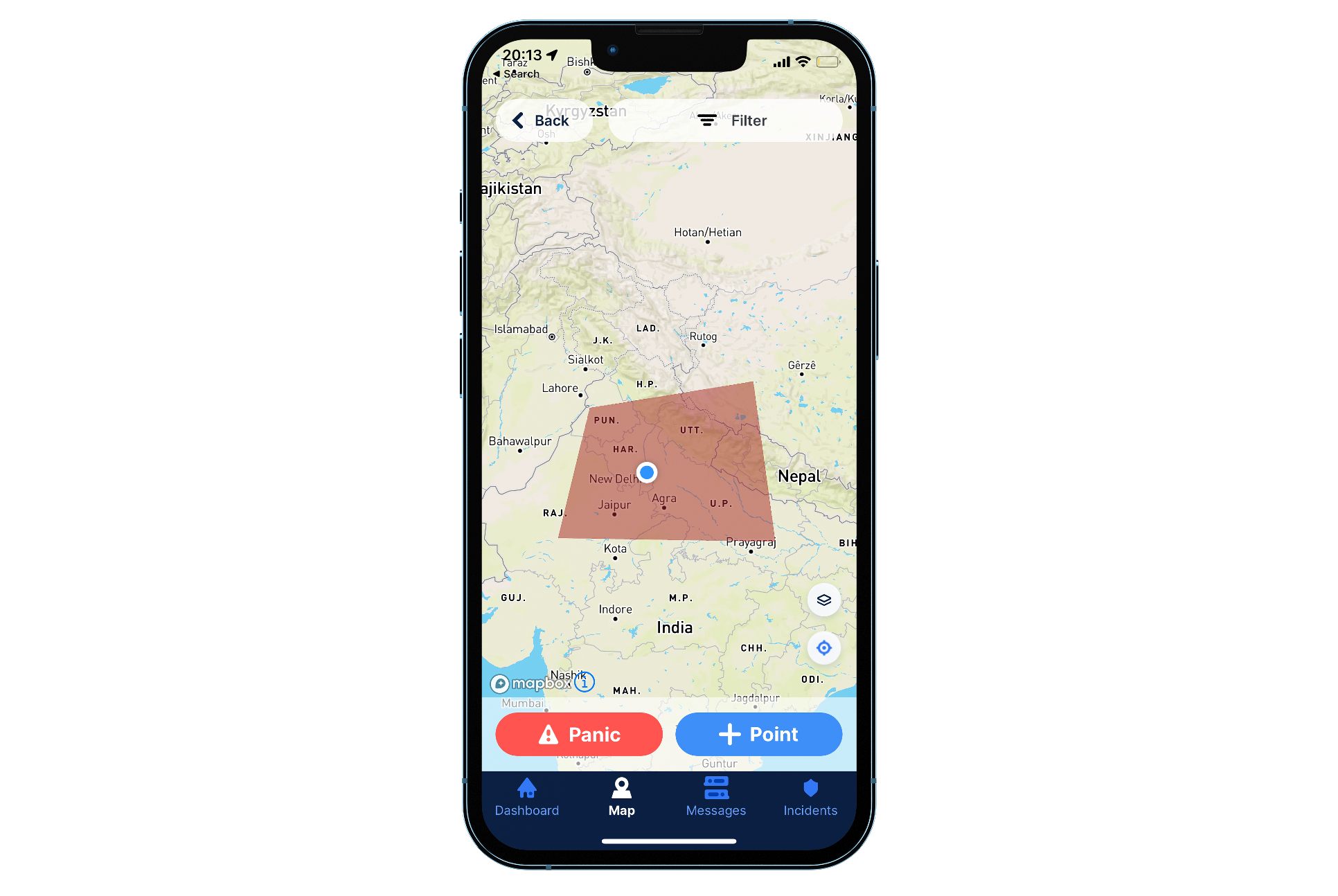 Real Time Alerts
When a manager creates a geofence it is shared with Trygg app users in real-time, and both the users and the oversight dashboard receive notifications if a user enters a geofenced area. Geofences are dynamic and can mark out areas containing hazards or hold elevated risks, or operationally relevant areas such as job sites. The creation process takes minutes and offers a highly effective way to communicate clear, geospatially relevant information to large numbers of staff simultaneously.
Request a demo
Benefits
Mass Alert System
An essential tool for reaching, informing and locating your staff faster should a critical event occur
Testimonials
"Ease of deployment, user-friendly interface and custom-mapping made Trygg an obvious choice; satisfying capability requirements across security and logistics disciplines. Furthermore, the option to field Trygg with an affordable satellite device to cover areas of sub-optimal GSM coverage was a significant selling point." - Security Lead, Oil and Gas, Niger Delta
Testimonials
"Very glad we switched providers! Trygg offers Excellent service, their Ops and PM are always on hand to give, expert advice and training. The dashboard and App are Easy to understand. Easy to use. Easy to make to most of the features. The team also listen to feedback and have adapted the App to better suit end user needs." - Security Director, International Development, Iraq
Testimonials
"We have been using Trygg since January 2019 and it has come to be an essential security management tool. We operate in some of the least stable areas of Iraq and Trygg's tracking and journey log features have been particularly helpful in ensuring oversight of our staff." - NGO Head of Mission, Iraq
Testimonials
"We are really happy with Trygg, especially the journey mode, which allows us to track our trips in Mali and Senegal and demonstrate how hard we are working to our donors." - Ops Manager, West Africa,
Testimonials
"Before Trygg, we only had a WhatsApp group to keep track of incidents, this is a fantastic platform." - Country Manager, Iraq
Testimonials
"I wish we had access to this during the Mosul relief operations, I dropped hundreds of pins on my mapping platform to show risk areas and distribution points but it meant nothing to anyone but me." - Security Co-ordinator, Iraq
A client based in Europe with a large number of frequent business travellers uses Trygg to stay connected with their staff visiting countries identified as medium to high-risk. The client has recently signed a new contract to deliver in-person advisory services to a company with multiple office and site locations in Mexico and throughout South and Central America. The client performs a security risk assessment of the locations their staff will be visiting and staying and identifies urban and rural areas that are high-risk for threats including kidnapping and armed violence. Using the Trygg oversight dashboard, the client's in-house security team marks out all high-risk areas using geofences, ensuring that travelling staff are aware of the areas and routes to avoid during their trips.
When visiting Mexico City, one of the travelling staff becomes lost and strays into an area of the city that has been geofenced due to high instances of gang violence and armed robbery. The user is notified that they have entered a geofenced area as well as the client's security team in their headquarters in Europe. The user is in the process of navigating out of the geofenced area when they receive a call from their security team confirming that they are moving to a safe location. The security team are able to monitor the staff member's progress in real-time via the Trygg location sharing feature and are able to confirm that they are no longer at risk.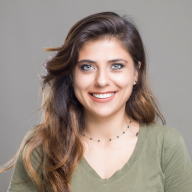 Ready to see how Trygg can benefit your team? Let's Talk.
Let's Talk
Employee Safety & Efficient Communication
Can be set up remotely within hours
Fair enterprise pricing with no hidden fees