Trygg in Ukraine: Supporting the work of MAD Foundation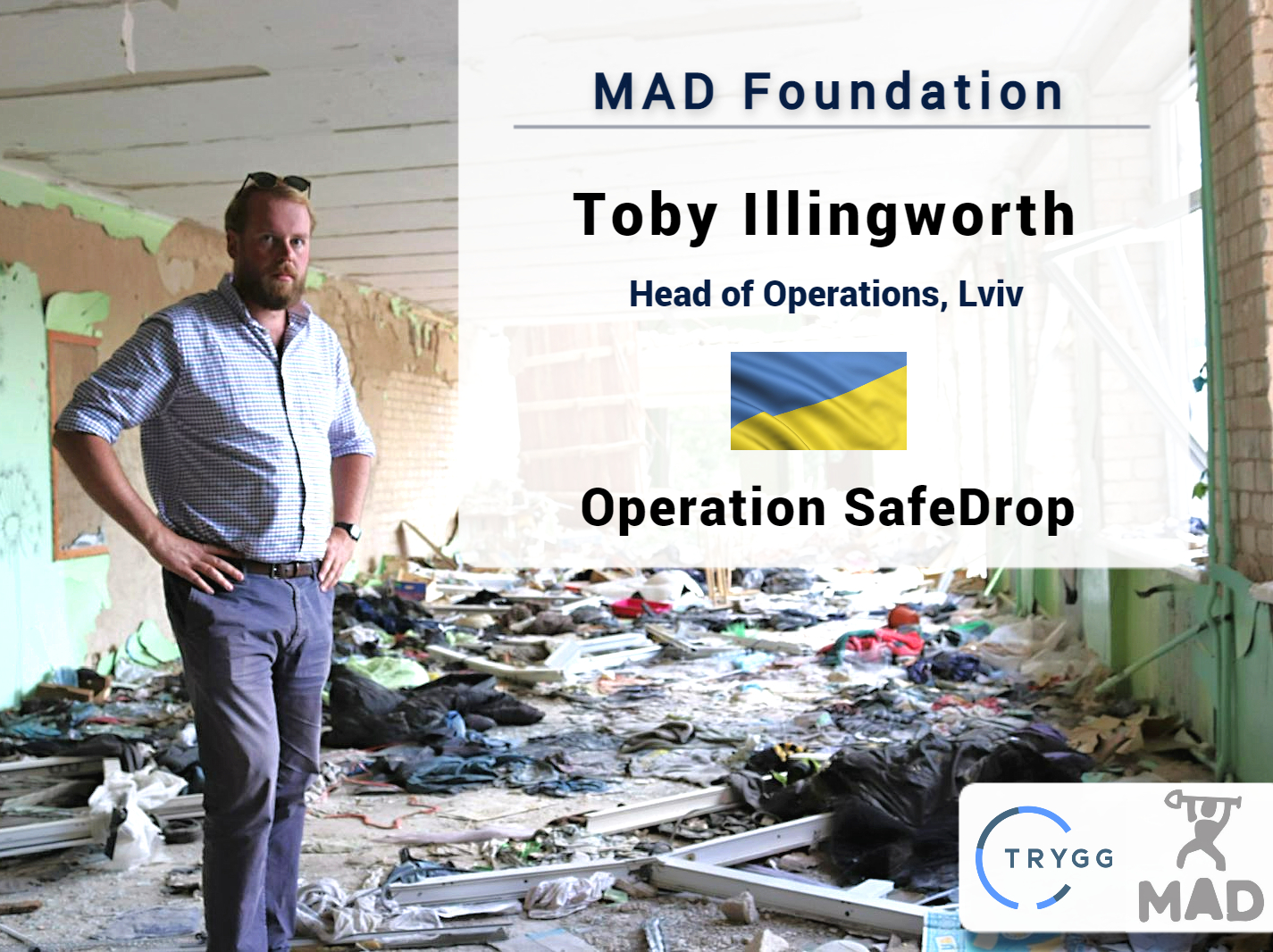 The war in Ukraine has been raging now since February, and has caused one of the gravest humanitarian crises of present times. Huge numbers of humanitarian organisations, both great and small, are working hard and often at risk of their staff's lives to lighten the suffering of Ukraine's people. Trygg is proud to be able to support such organisations, including the MAD Foundation.
Toby Illingworth is based in Lviv and he is the Head of Operations for Operation SafeDrop, an initiative of the MAD Foundation. We've asked him to sit down with us and tell us a bit more about his and his colleagues' work on the front lines of this active conflict.
Interviewer: Hi Toby, and thank you for speaking with us today. Could you tell us a bit about the MAD Foundation?
Operation SafeDrop is a project of the MAD Foundation, a UK registered Charity, has been working on the ground in Poland and Ukraine since early March to assist and support Ukrainian families fleeing the conflict. SafeDrop's humanitarian staff and volunteers help vulnerable individuals through their entire path to safety. Prior to our focus on Operation SafeDrop, MAD Foundation has been operating for over 20 years delivering development projects in Africa, Asia and Latin America.
Interviewer: Could you tell us a bit more about Operation SafeDrop and your experience working in the region?
Operation SafeDrop was established in March, initially based in Poland near the Ukrainian border. SafeDrop started by provided translation services in humanitarian centres and transportation for refugees across Europe. Soon after its establishment, we began extractions from Ukraine to Poland focused on the area around Chernihiv. In April we added visa assistance to our offering and so could provide end-to-end support for Ukrainian families and in May we moved our operation centre to Lviv and expanded our extraction operation. We now have a fleet of 9 vehicles providing aid deliveries and physical extractions of refugees across Ukraine from Sumy and Chernihiv in the north to Zaporizhzhia and Mykolaiv in the south and east.
Interviewer: There's been significant developments in the war, as well as threats of escalation, both delivered and theoretical, by President Putin. Is there any concern for the ongoing safety of the staff of MAD and the Ukrainian people they help?
We of course are always monitoring developments in the conflict and having to regularly change our plans based on this. We have seen in recent days the beginning of a new wave of attacks with Shahed-136 Drones in Kyiv and across the country. This is a concerning development as it makes operating even away from the front lines much more dangerous. We have seen, though, that many of the Kremlin's threats never materialise and so, although we have plans for each eventuality, it has a limited impact on our operations. We also are gearing up for the Kherson liberation after which there will be a huge uptick in demand for aid delivery and extraction, operating in an extremely difficult environment.
Interviewer: It sounds like a very operationally complex and often ambiguous environment. How are you keeping your staff and those you aid safe while operating in Ukraine?
The safety of our team and the families we are transporting is always the top priority for our operation. Our teams operate around the front lines and regularly are in locations that are shelled or hit by missiles, we ensure to the best of our ability that our teams are protected whilst spending as little time as possible in extremely high risk locations. While our team is operating across Ukraine, collecting accurate intelligence on the battlefield developments in our areas of operation are vital, whilst also ensuring that we have a secure platform such as Trygg to monitor where our vehicles are and securely communicate with drivers is vital to ensuring the best protection possible for the team.  
Interviewer: It's great to hear that Trygg has been a resource in keeping the team safe. How has the Trygg system aided the work MAD Foundation is carrying out?
Trygg has allowed us to manage our evacuations and aid deliveries much more effectively. The obvious benefit is for tracking the progress of our various teams as they operate around the country, but Trygg contains a plethora of additional tools that have become vital to our operations. Across Ukraine we have now marked over 200 POI's such as checkpoints, destroyed bridges, impassable roads and geofencing of occupied territories. This allows our team to quickly plan routes and share information that is impossible to gather from opensource mapping tools. It can add an extra half day onto a trip if a team does not know about a blown bridge and so having that information available is hugely advantageous. The ability to securely communicate within the app also simplifies operations as everything the drivers need is within a single application. Although we thankfully have not had to use them yet, the panic button functionality for teams in trouble or the mass alert system for major events such as Belarus invading from the north for example provide additional levels of safety for our team.
Interviewer: Would you consider Trygg a crucial tool to ensuring the safety of those using it in the field?
Absolutely, Trygg has become a critical part of our operations ensuring security for our team operating on the ground.
Interviewer:  Finally, would you recommend Trygg to other NGOs operating in the region?
For any NGO operating multiple teams across Ukraine, particularly in the East and South, we would highly recommend using Trygg to improve their operational oversight and communications whilst ensuring security of communications and simplicity for driving teams.
If you're interested in learning more about the MAD Foundation and Operation SafeDrop, or would like to donate to support their cause, please visit them at https://www.madfoundation.com/